Send Inquiry
Give your walls the best protection and look with our range of Water Based Decorative Paints, Wall Putty Primer, Waterproof Wall Putty, Wall Putty & Primers, Aluminum Paints, Wax Polish, Water Based and Italian Wall Finishes...
About Us

We, Monalisa Colour & Chemical Company, are famed across the globe for our quality consciousness and client centric policies. Working under the 'Madona Group Of Companies', we are constantly delivering our global clientele with quality accredited Distempers, Interior & Exterior Emulsions, Wall Putty Primer, Waterproof Wall Putty, Wall Putty & Primers, Aluminum Paints, Wax Polish, Water Based Decorative Products etc that meets the standards of ISO 9001:2008. All of these offerings are made using top quality resin, dolomite, Cement and other defect free raw materials. In addition to being a manufacturer, supplier and exporter of such an outstanding range, we also render numerous customer support services to our clients. Through the medium of these, we try to resolve the queries of our clients and attain maximum customers' satisfaction.


Our Clients

Over the years, with the help of our hard work and quality performance, we have earned a huge clientele for our company. Our long list of clientele comprises of names such as Sail, PWD, J PK Enclave Pvt Ltd, Prasad Group and many more.

Our Projects

In past years, we have taken on many projects that we have completed successfully, some of the major ones are listed below:
Mayfair Gardens Co-operative Housing Society

A.V. Hotel

Ashoka Hotel

Ritex Industries

Capricorn Castle

Punjab Bhawan

The Calcutta Club Ltd.

BK Saha House

Punjab Seva Samity

Raiganj Bhavan

Rajdanga Main Road (Kasba)

Jaiswal House

Rabindra Sarani

Imperial Honda

Nike Showrooms (Mani Square & South City Mall)

C.M. Bangla (Aizawl)

Kings Palace (Bhutan)

Bhagirathi & Saraswati Complex (Naval House)

The Chariod Hotel (Puri)

K.P.C. Medical College, Jadavpur

Patwari House (Jhargram)

Lohia House

Alipore Nursing Home

Command Hospital

K.K. Lohia Trust

Bombay Safe Pvt. Ltd.

Navy Headquarters

Chien Housing Tannery Bantala

J.C.B. Leather Complex

Metro Cash & Carry

Agrasain Boys School

Hotel Lindsey and Prasad Group

Punjab Club Ltd.
Our Group's History

The Madona Group of Companies was incorporated back in 1948 by Late Shri Pran Nath Kapoor in Amritsar. Later in 1954, Mr. Kapoor shifted the industrial base of the group to Kolkata with an aim to enhance the production capacity.

Later on in 1980's, the dynamic duo took over the company, Late Shri Deepak Kapoor and Mr. Satish Kumar Kapoor. Under their leadership the group launched a diverse array of products and also engaged itself in importing quality offerings to meet clients expectations.

The group extended its market reach under the banner of two major companies of the group, i.e. Wax (India) and Monalisa Colour & Chemical Co. Both of these companies had earned a notable position in the market owing to their ISO 9001:2008 certification. Under these banners, madona group diversified its range by adding water as well as cement based decorative coatings that can be used for exterior and interior surfaces.

The grandsons of our group's founder, Mr. Siddhartha Kapoor and Mr. Neeraj Kapoor have been working diligently to make the group more successful in the marketplace. They have introduced a new range of Italian Wall Finishes in collaboration with Candis, Italy.

Our Group's Dealer Network

Our group is backed with an incredible dealer network that is not just influential in Eastern India but also in neighboring countries like Nepal, Bhutan and Myanmar.

Services

The group is also engaged in offering complete Home Painting Solutions to it's clients. Along with this, we also render Complete Waterproofing & Surface Protection Services and Italian Designer Wall Finishes.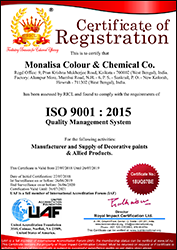 Latest Trade Offers
We are involved in supplying High Grade Iron Red Oxide in Kolkata, West Bengal, India. Our presented range are widely demanded by our customers which ..
Leveraging on our enormous industry understanding, we are indulged in manufacturing and supplying to our valuable patrons a collection of Wall Coat pa..